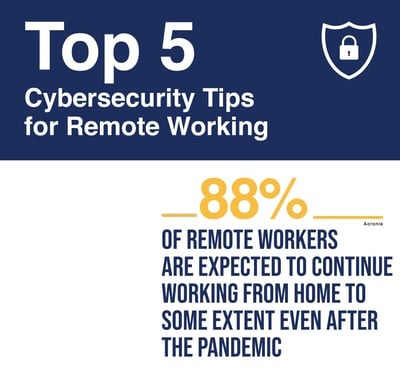 Remote working:
How to remain secure
Working remotely became a necessity during 2020. The rapid shift has left many employers exposed to hackers.
There has been an increase in remote working related cyber-attacks on businesses of all sizes, with over 50% of businesses of all sizes having been breached or exposed during the pandemic according to a HLB report.


Assess your remote working vulnerabilities
It is vital, therefore, to assess your remote working cybers security practice and equip your employees with everything they need to work safely.
But don't worry. We are sharing our top tips to combat new, sophisticated cyber-crimes that are targeting remote workers.
Get to grips with the
Top 5 Cybersecurity Tips for Remote Working
Security Awareness Access, Report and Repeat

Security Awareness Training

Safety in the Cloud

Real Dark Web Threats

Access Management & Two-Factor Authentication
"They have been super quick, or should I say Superfast, when dealing with issues on my Laptop at home, working at home during these unprecedented times. All in all an excellent IT company."
Lynn Farrant
★★★★★ Google review
"Great guys to work with, always helpful, always able to solve issues in a timely manner. Look no further for a knowledgeable group of people who really know their stuff!"
Lee Patel
★★★★★ Google review
Identify and resolve your business' security threats

Identify your remote working cybersecurity threats

Address any security vulnerabilities

Get peace of mind that your data is secure