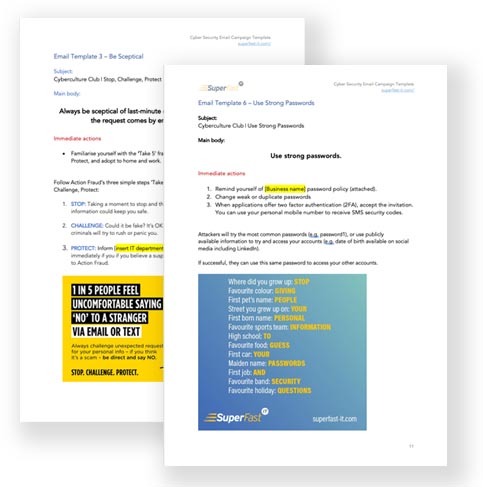 Downloadable word document that contains six email templates

6-week cyber security email campaign for employees

An email campaign template designed to:
Raise employees' awareness of cybersecurity

Highlight their responsibility to prevent cyber incidents at your business.
Over the course of 6 or 12 weeks, the 6 emails can be drip-fed to your team; for quick and easy digestion of cyber security best-practice.
How do I use the template?
The free, downloadable word document contains instructions as well as 6 email templates (from page 3). Each email contains:
Subject line
Main body of content
Instructions/brackets to customise e.g., attach a policy, insert your organisation name/contact name.
Step-by-step instructions
Copy and paste the email subject line and content into six separate emails. The emails can be sent using your normal email provider. Alternatively, send the emails using email marketing software e.g. Mail Chimp, Constant Contact. The messages can also be posted onto your business Intranet.
Customise necessary fields e.g. company name.
Add all employees as recipients.
Press send!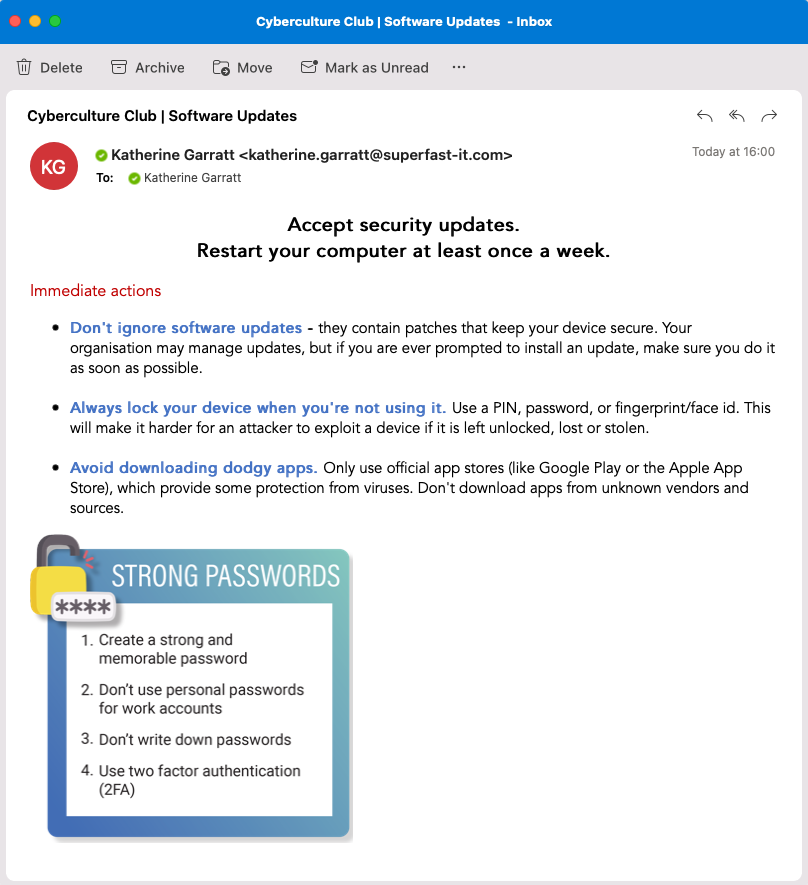 Copy and paste the content into an email, customise the relevant fields e.g. company name, attach policy), and press send!
Benefits of Cybersecurity awareness Training
Creates a positive cyber security culture

Employees more likely to spot a scam

Reduce the risk of IT infrastructure being hacked

Campaign approach = constant reinforcement

Encourage better password management
"They have been super quick, or should I say Superfast, when dealing with issues on my Laptop at home, working at home during these unprecedented times. All in all an excellent IT company."
Lynn Farrant
★★★★★ Google review
"Great guys to work with, always helpful, always able to solve issues in a timely manner. Look no further for a knowledgeable group of people who really know their stuff!"
Lee Patel
★★★★★ Google review
Engage your team
Create your own Cyberculture Club

Warn employees of their cyber security responsibilities

Communicate best practice, as recommended by the National Cyber Security Centre

Promote a positive cyberculture at your organisation